1 Year Free Membership $360 Value with FindFreightLoads.com
You will have complete unlimited access to our load board for 1 year. Your membership is included in the freight broker course package. This is a $360 value and no other freight broker training course has this type of partnership with an leading online load board.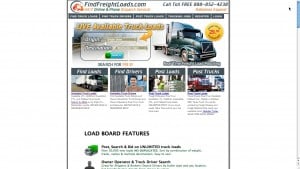 FindFreightLoads.com
 has the most features to offer on one website for 1 low monthly fee. Our freight matching system will connect you instantly with thousands of trucking companies, freight loads, truck drivers and Owner Operators nationwide. Freight Brokers, Freight Forwarders, Carriers, Shippers and anyone trying to get into the transportation industry for the first time can benefit from this powerful and easy to use website. Our special features are unmatched on the internet and are the backend that drives RNL to the top of the internet freight matching industry. There are tens of thousands of carriers operating in the United States alone. As well as tens of thousands of truck drivers and Owner Operators looking for work. 
FindFreightLoads.com
 provides an internet link between the two with over 45,000 transportation contacts in our database. We offer Owner Operators and Truck Drivers direct contact with trucking companies, freight forwarders, freight carriers and shippers nationwide via email, phone or fax, with our online load matching service. Our real time freight load database is easy to use for Freight Brokers. It is a requirement for Freight Brokers to have an online freight matching service software to find carriers for their customers. Freight Brokers get the best of both worlds, because they have access to trucking companies nationwide as well as a huge database of truck drivers and owner operators looking for available freight loads. We offer Owner Operators and Truck Drivers an easy way to obtain cargo insurance with nationwide cargo insurance affiliates ready to provide liability and cargo insurance certificates. Our online advertisement specials are the best offer on the internet, with customizable banner ads displayed to thousands of monthly visitors. All of these features are included with your monthly membership. Most importantly our online load matching system is extremely easy to use. Our website is designed for owner operators to find work fast and get on the road. Our user friendly web interface makes it fast to find exactly what you are looking for weather your a freight broker, owner operator, truck driver, shipper, freight forwarder or carrier. Some of our special features include cell phone text messaging of an available truck load or requesting a truck lane to be filled. All searches can be printed in a print friendly format, and all searches can be downloaded into an excel format. All listings are integrated into mapquest for easy pin-point directions and mileage calculations. This is extremely important for owner operators budgeting their trip. We supply owner operators with WiFi Hot Spots and Gas Stations and Truck Stops that are equipped with internet access so you can find loads anywhere and avoid having deadhead miles. We acquire loads from freight brokers, freight forwarders and our affiliates with major trucking companies nationwide. We are an internet source of transportation information and our main goal is to make a user friendly, knowledgeable, and safe network of members sharing trucking information, loads, freight questions and answers and expand your business off one another. Best of all, this information is available to users 24/7/365 for the lowest monthly fee on the internet! You can't go wrong. Join us toady and experience the power of FindFreightLoads.com